Do you sort waste? In Prague, you can easily find out where and when you can dispose of it. The Municipal Authority of Prague worked together with T-MAPY company on creating
three map applications
related to waste management.
On these interactive maps based on the
Assetino
platform,
citizens of Prague can easily find locations of the nearest recycling bins, where and when large dumpsters will be placed, and where to dispose of hazardous waste.
All three map applications are accessible via the Municipal Authority's map portal. Individual city districts have these apps at their disposal to be published on their own web pages. Other waste management related maps will be created in the future.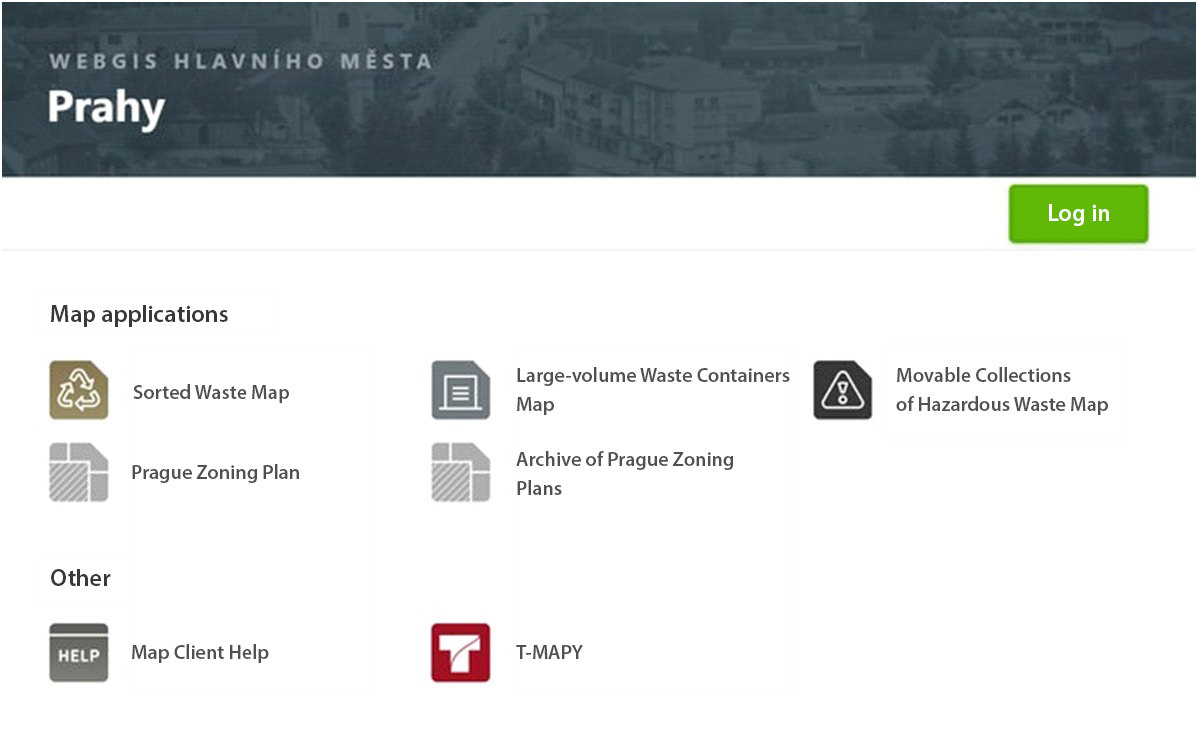 The Recycling Bins Map contains
information about all sorted waste containers
within the boundaries of the capital city of Prague (this service is provided to citizens of Prague for free as a part of the Complex system for handling municipal waste). The map covers
over 5,400 locations
.
Each location is colour-coded in order to indicate which type of waste may be disposed of there. After clicking on the selected location, detailed information is displayed – how often containers are collected, type of container, and whether it is accessible to the public. The application includes both public waste containers as well as non-public containers which serve residents of a specific building exclusively.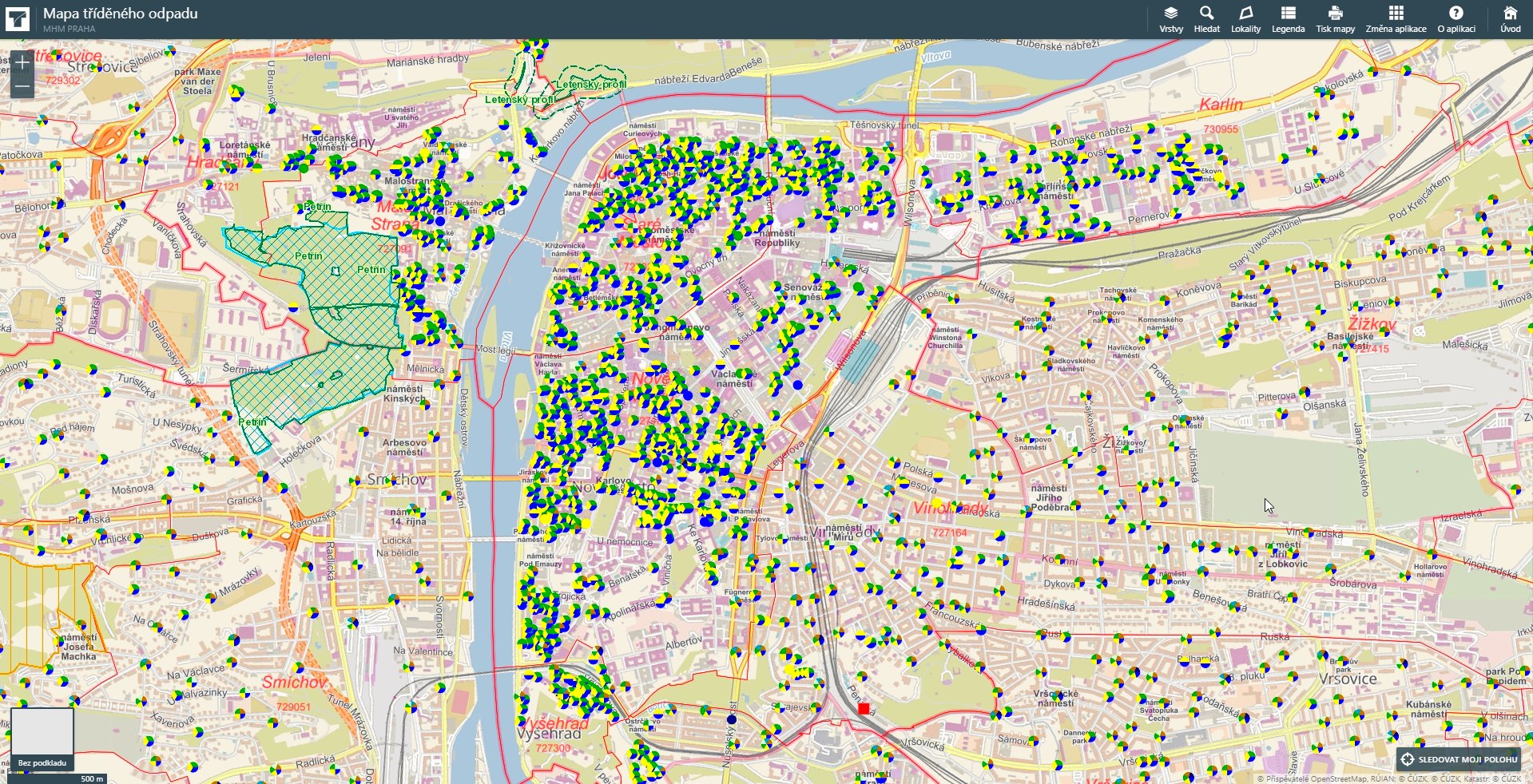 Large-volume Waste Containers Map
Residents of Prague have an option to dispose of large-volume waste at
collection yards
, or in
large-volume waste containers
(LWC) which are placed directly on city streets.
Biohazardous waste containers
are also installed in the city streets at Prague's residents disposal.
Thanks to the interactive map of LWC, Prague's citizens can easily find out where and when these containers will be available to them. After clicking on a particular map symbol, an information panel will pop up with a description of container type (mixed waste/biowaste) as well as dates&times during which the container will be accessible.
As the application includes over 7,000 items, a special map layer was created to simplify navigation in such large amounts of data. It shows locations where containers will be placed in the upcoming seven days.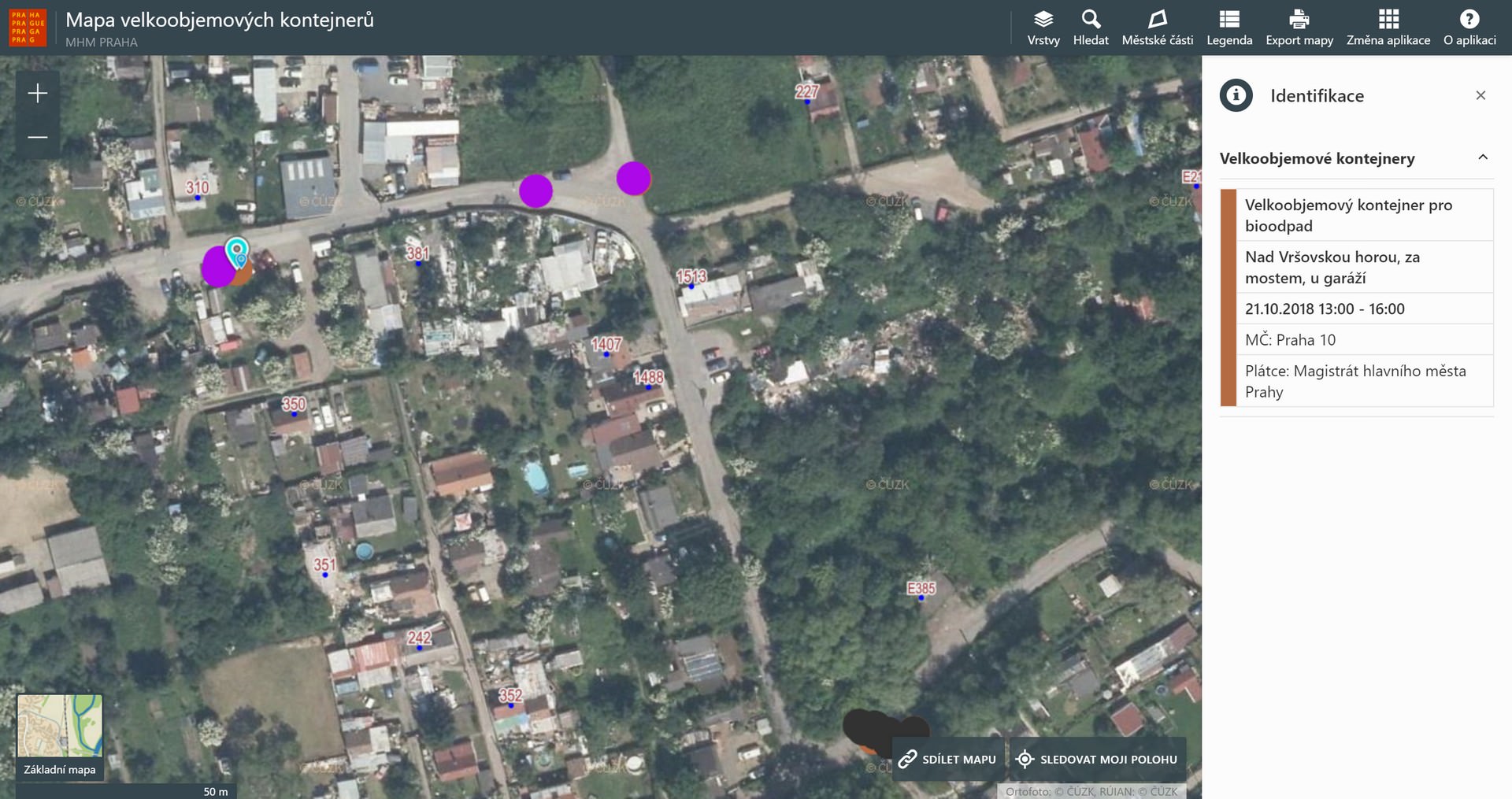 Map of Movable Collections of Hazardous Waste
In this interactive map, users can look up
routes of hazardous waste collection vehicles
so that they know when one is taking place in their area (there are over 300 movable hazardous waste collections in Prague every year). The map displays individual collection routes and the stops on each route. After clicking on a particular route, collection dates and time will be displayed. Contact information for the collection vehicle driver is also included.
Depending on selected map layers, users can display either all collection routes within the boundaries of the city of Prague or the routes where the movable waste collection will take place in the upcoming 30 days.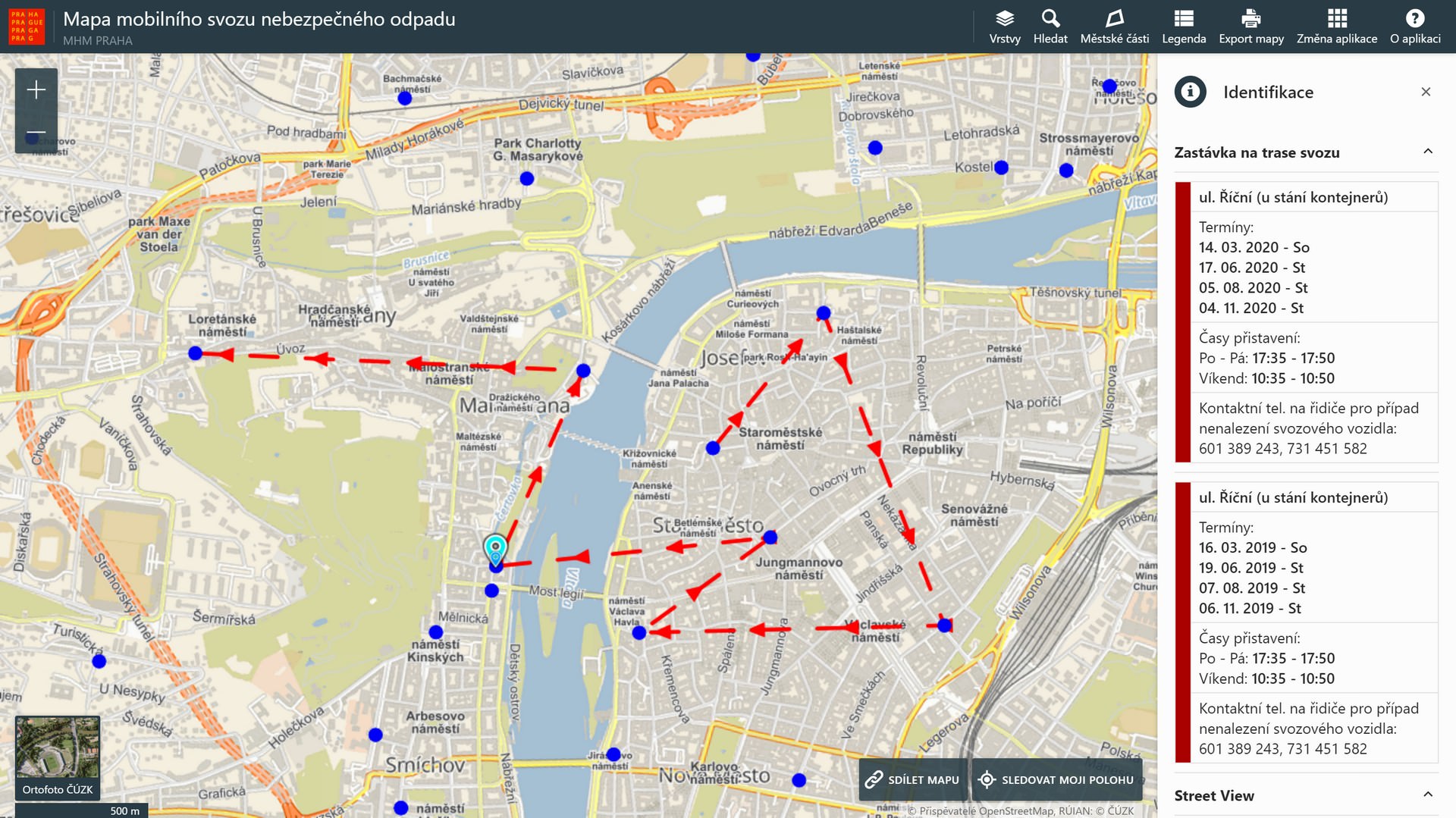 Municipal authority of the City of Prague
Well-organized visualization, ease of navigation, compatibility with existing municipal authority's systems.
The goal of the contract was to create a series of monothematic map applications for informing the public about specific topics in the area of waste management. Since the data is acquired from various sources, prior to visualization the data model had to be unified. A system for periodic and automatic data update was set up as well.
The system framework for the applications is delivered by I-MEDIA company – it facilitates internal management of the system which is also linked with waste collection financing. The Assetino Waste Management application from T-MAPY company provides tools for data publishing in well-organized maps, including search and filtering mechanisms and geometric data editing tools. A map layer is created for each topic which allows users to toggle the selected topic on/off.
The interface of public map applications is designed with regard to maximum clarity and intuitiveness. All map applications allow users to work with map layers (toggling selected topics on/off), search by address, or change of the background map (basic map/aerial image).
Within the past few years, we have collaborated with T-MAPY company on many successful projects. Therefore, when it came to this contract – a set of map applications for Prague's waste management – I could rely on T-MAPY to provide problem-free cooperation, professionalism, and a top-quality outcome.
Our goal was to provide Prague's residents with comprehensible information on waste management, and thanks to T-MAPY, this was achieved with an excellent result. Three map applications were created during the first phase of the project: Sorted Waste Map, Large-volume Container Map, and a Map of Mobile Collections of Hazardous Waste. The applications have a very attractive design, are well-organized and easy to navigate. That's very important since they are intended for the general public. At the same time, it is a modern and technically advanced solution which makes daily tasks easier for us, the system administrators.
The great set-up cooperation with T-MAPY continues – currently, we are collaborating with them on other map applications which will address the internal needs of the municipal office.